I began 
Oh Me, Oh Mãe
after giving birth to my daughter in June 2020.
As I had
documented my pregnancy
, I wanted to document early motherhood whilst being as honest as possible about my experiences. The images are accompanied by diaristic text (either in the form of hashtags or 'normal text'). 
The title is a play on the phrase 'oh me, oh my' as Mãe is Portuguese for mother and pronounced as 'myy'.
(Below are a selection of images)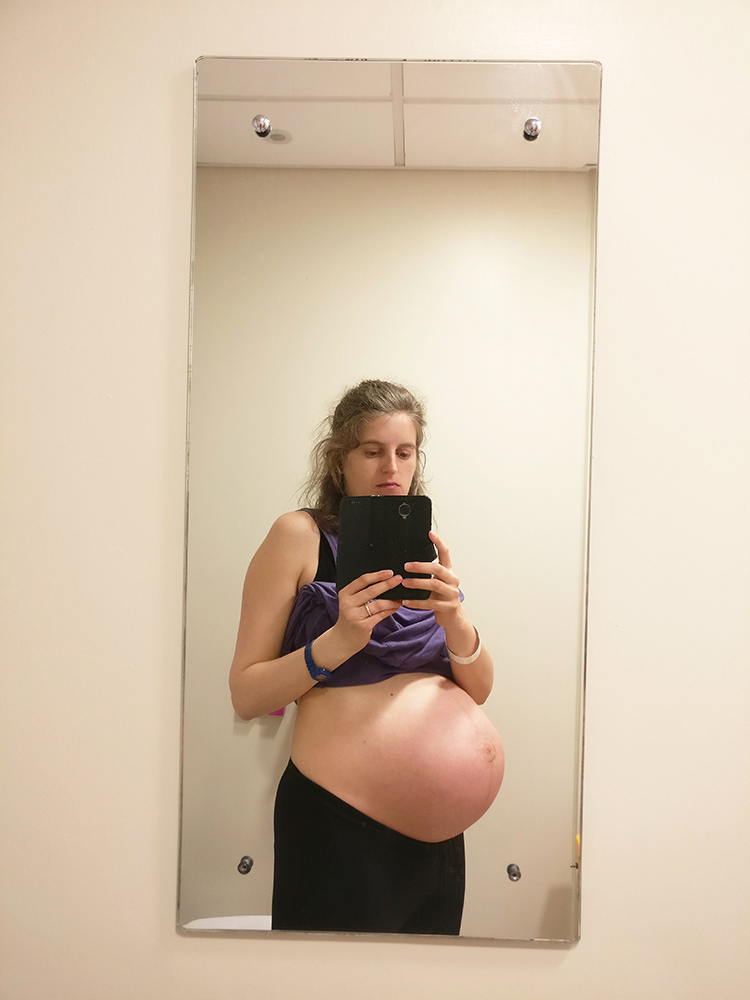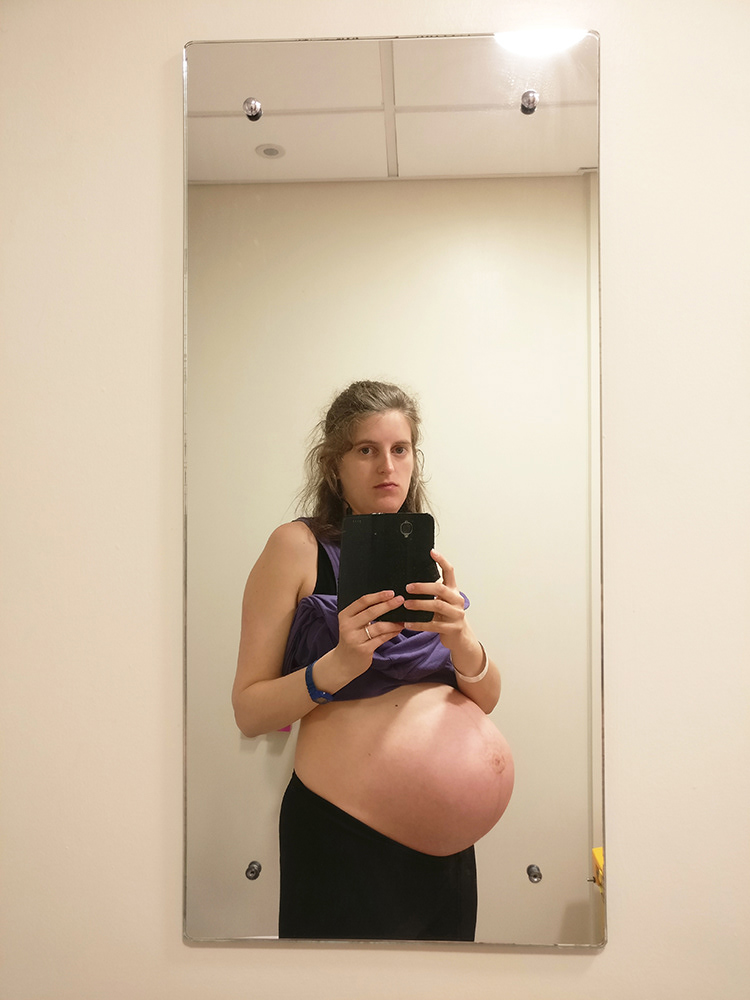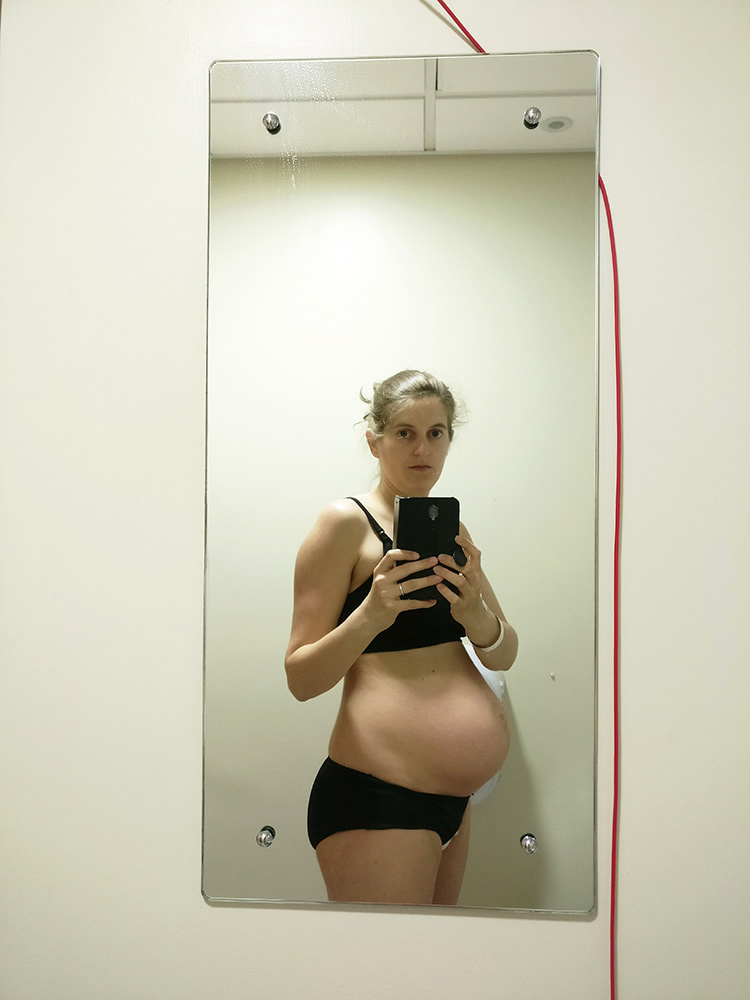 What I Wore For My Four Night Hospital Stay After Giving Birth (19th June 2020)
#WeHadPackedTheBagJustInCaseACoupleOfWeeksPreviouslyEvenThoughWeWerePlanningForAHomeBirth
#IThoughtAtLeastEverythingIMightNeedEvenForHomeWouldBeInTheSamePlace
#IKeptSayingWeShouldRevisitThemButWeNeverGotRoundToItEspeciallyAsSomeThingsWeNeededForEverydayUse
#SoWhenICalledTheHospitalToSayMyWatersHadBrokeTheySaidToBringBagsInJustInCase
#WeSpentHalfAnHourRushingRoundButIDidNotTakeItTooSeriously
#INearlyDidNotPackThisDressAsItWasWhatIWasWearingInBedWhenMyWatersBroke
#ItWasALittleWetAndItDidNotSmellSoIPutItInMyBagThinkingIWouldBeComingHomeSoonForMyHomeBirth
#WellObviouslyIDidNotComeHomeAndWasInHospitalFor4Nights
#ICouldHaveAskedTiagoToBringMoreThingsButByTheTimeIThoughtAboutItIKnewMyStayWasComingToAnEnd
#OriginallyIWasInHospitalDueToProblemsWithBreastfeedingAndThenBabyBGotJaundice
#TheDressShowsColostrumStainsAndThenMilkStainsAfterMyMilkCameInOnDay3
#ItWouldHaveBeenEvenMessierThanThisButOftenISatWithMyDressOffToDoSkinToSkin
#SoManyWomenTouchedMyBoobsDuringMyStayToHelpMeTryToFeedSoIDidNotCareAnymore
#PlusAround6PeopleWereAtTheBirthPlusTiago
#ItWasWeirdToSuddenlyBeAroundSoManyPeopleAfterHavingNotSeenMyFamilyFor3MonthsDueToCovid
#MyCurtainWasNeverFullyClosedAsThereWasALightSwitchJustBehindItThatTheHospitalStaffUsed
#SoPotentiallyPeopleCouldSeeInButIReallyDidNotCare
#AfterAFewDaysIThoughtIBetterWearSomethingElseButItWasTooHot
#TheOtherWomenOnTheWardProbablyJudgedMeForWearingAStainCoveredDress
#ButSoManyCameAndWentBeforeMe
#IDidNotWearMyWatchBecauseOfBreastfeeding
#ISometimesWoreANursingBraButInTheBeginningIDidNotAndThenIUsedBreastPadsOnceMyMilkCameIn
#IHadMyEyeMaskOnMyHeadAllTheTimeAndEvenAfterIGotHome
#TheJokeWasIWasNotSleepingThoughAndIStillAmNotReally
#IBoughtItAsItWasOnARecommendedHospitalListButIAlsoThoughtItWouldBeGoodForHomeAsIFindItHardToSleep
#ItWasProbablyTheMostUsefulThingInMyHospitalBagInTheEndAndIAmUsingItAtHome
#AndThenIWasGladThatIWoreMySandalsAndNotTrainers
#SoEasyToJustSlipOnAndOffAndMoveAbout
#IHaveJustLivedInSandalsForAllOfLockdown
Not Sleeping Makes Me Emotional (25th June 2020)
I really don't know how long I slept last night
But I didn't rest much
Tiago went 'back to work' today
Paternity in this country is so bad
So bad that he took 1 week of it and 1 week of annual leave
He was only in the other room but I felt alone
Feeding seemed never ending this morning
Then she settled in a wrap
When we took her out Tiago commented on how red her legs were
I didn't want to look
I was getting hungry and I just got upset
I should be lying down more
Now I am getting tired
When I took this picture I was worried that I was not producing enough milk
I hadn't eaten and I had barely drank
It's a big responsibility making sure she gets enough to eat/drink.
I can see why people give up or just bottle feed
I guess I do forget that I can just breastfeed rather than express
Though I have started to do a bit of both
Maybe I should just try breastfeeding her and see how that goes
Less stressful than running round trying to pump
Lockdown just makes it all so weird
She is 2 weeks old and I am yet to go for a walk
Hopefully we will tonight but I say that every night
I guess usually we'd get more support
I just feel like I have 1000 things to do
But I need to focus on my family.