I began 
Oh Me, Oh Mãe
after giving birth to my daughter, B, in June 2020.
As I had
made a project about my pregnancy
, I wanted to document early motherhood whilst being as honest as possible about my experiences. The images are accompanied by diaristic text (either in the form of hashtags or 'normal text'). 
Mãe is Portuguese for mother (B is British-Portuguese).
(Below are a selection of images)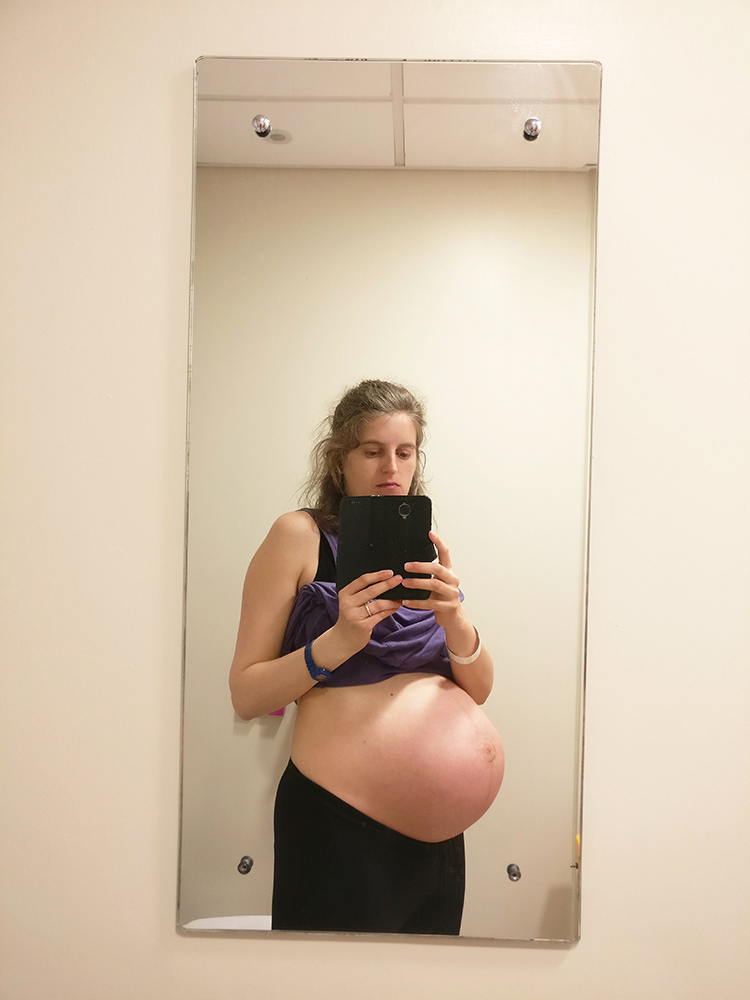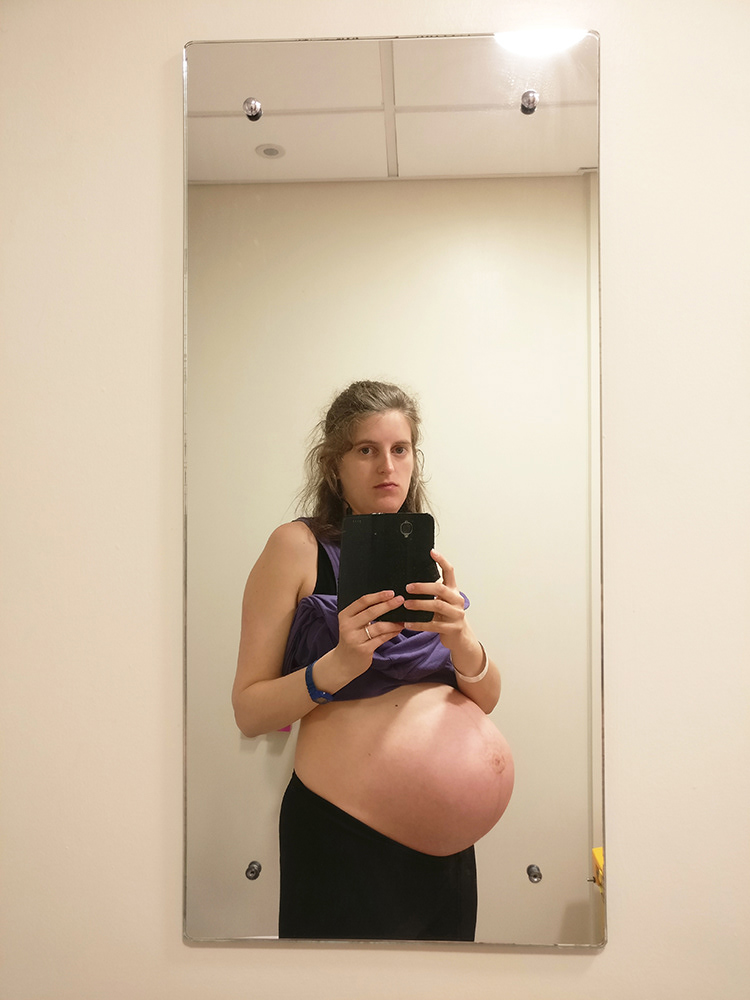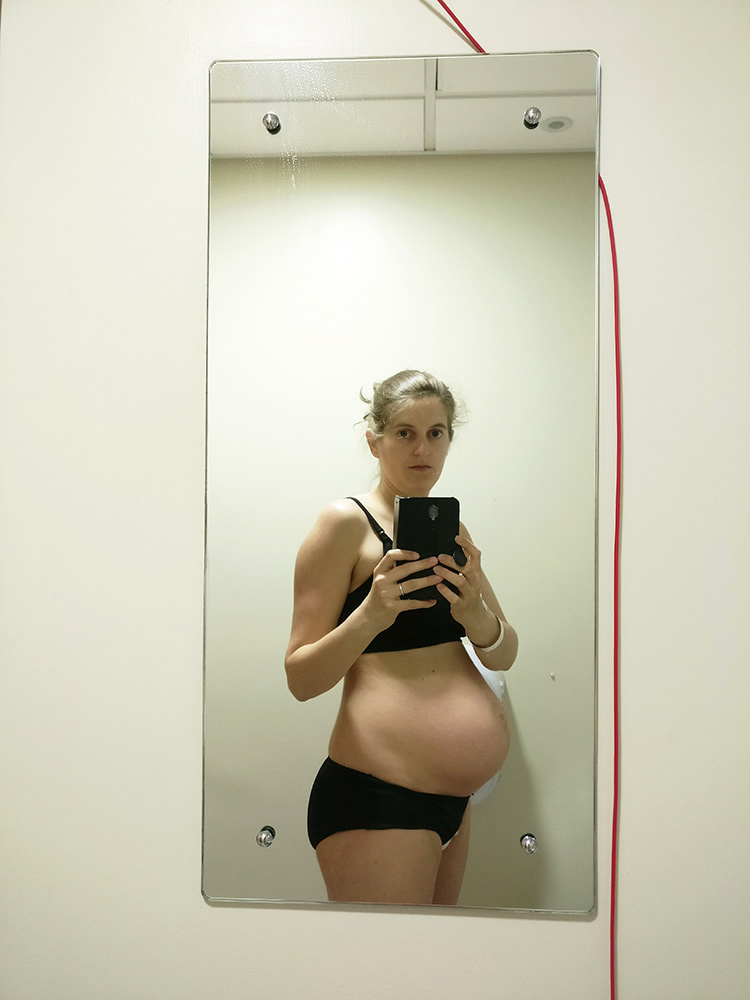 What I Wore For My Four Night Hospital Stay After Giving Birth (19th June 2020)
#WeHadPackedTheBagJustInCaseACoupleOfWeeksPreviouslyEvenThoughWeWerePlanningForAHomeBirth
#IThoughtAtLeastEverythingIMightNeedEvenForHomeWouldBeInTheSamePlace
#IKeptSayingWeShouldRevisitThemButWeNeverGotRoundToItEspeciallyAsSomeThingsWeNeededForEverydayUse
#SoWhenICalledTheHospitalToSayMyWatersHadBrokeTheySaidToBringBagsInJustInCase
#WeSpentHalfAnHourRushingRoundButIDidNotTakeItTooSeriously
#INearlyDidNotPackThisDressAsItWasWhatIWasWearingInBedWhenMyWatersBroke
#ItWasALittleWetAndItDidNotSmellSoIPutItInMyBagThinkingIWouldBeComingHomeSoonForMyHomeBirth
#WellObviouslyIDidNotComeHomeAndWasInHospitalFor4Nights
#ICouldHaveAskedTiagoToBringMoreThingsButByTheTimeIThoughtAboutItIKnewMyStayWasComingToAnEnd
#OriginallyIWasInHospitalDueToProblemsWithBreastfeedingAndThenBabyBGotJaundice
#TheDressShowsColostrumStainsAndThenMilkStainsAfterMyMilkCameInOnDay3
#ItWouldHaveBeenEvenMessierThanThisButOftenISatWithMyDressOffToDoSkinToSkin
#SoManyWomenTouchedMyBoobsDuringMyStayToHelpMeTryToFeedSoIDidNotCareAnymore
#PlusAround6PeopleWereAtTheBirthPlusTiago
#ItWasWeirdToSuddenlyBeAroundSoManyPeopleAfterHavingNotSeenMyFamilyFor3MonthsDueToCovid
#MyCurtainWasNeverFullyClosedAsThereWasALightSwitchJustBehindItThatTheHospitalStaffUsed
#SoPotentiallyPeopleCouldSeeInButIReallyDidNotCare
#AfterAFewDaysIThoughtIBetterWearSomethingElseButItWasTooHot
#TheOtherWomenOnTheWardProbablyJudgedMeForWearingAStainCoveredDress
#ButSoManyCameAndWentBeforeMe
#IDidNotWearMyWatchBecauseOfBreastfeeding
#ISometimesWoreANursingBraButInTheBeginningIDidNotAndThenIUsedBreastPadsOnceMyMilkCameIn
#IHadMyEyeMaskOnMyHeadAllTheTimeAndEvenAfterIGotHome
#TheJokeWasIWasNotSleepingThoughAndIStillAmNotReally
#IBoughtItAsItWasOnARecommendedHospitalListButIAlsoThoughtItWouldBeGoodForHomeAsIFindItHardToSleep
#ItWasProbablyTheMostUsefulThingInMyHospitalBagInTheEndAndIAmUsingItAtHome
#AndThenIWasGladThatIWoreMySandalsAndNotTrainers
#SoEasyToJustSlipOnAndOffAndMoveAbout
#IHaveJustLivedInSandalsForAllOfLockdown